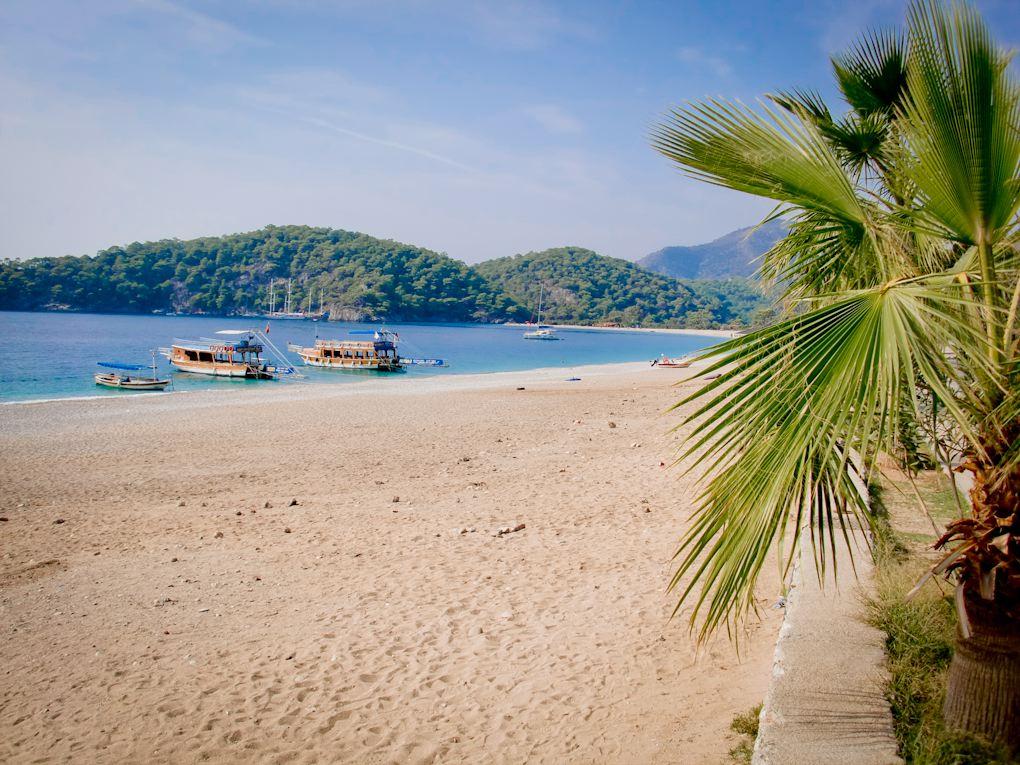 This picture almost never happened, mostly due to clouds appearing in the sky every time I planned to visit Oludeniz, one of the best beaches in Turkey. Having based myself out of nearby Fethiye (approximately 10 kilometers away) for much of the past fall and winter, I made a few trips to this beach that's most famous for its Blue Lagoon. You can actually see the edge of the Blue Lagoon at the far end of the beach in the photo above but the best views are from the air. Paragliding is huge in Oludeniz and even when the beaches are as quiet as they were on this late fall day, the skies still have a fair share of people floating above (right over my shoulder in this case).
There's a bit of confusion online about the exact location of Oludeniz – and what sea it's on. Both Wikipedia and Google Maps incorrectly place Oludeniz on the Aegean Sea; close but not quite. Make no mistake about it, Oludeniz, which means "dead sea" in Turkish, is on the Mediterranean. The boundary of the Aegean is actually between the northern edge of nearby Rhodes to just south of the Turkish town Marmaris – approximately 80 km offshore from Oludeniz.
The last time I visited Oludeniz with friends Barry and Julia, who write Turkey's For Life (a must-read site if you're headed to this part of Turkey) the weather was just warming up. That spring swell in tourists is likely now an avalanche of people from all over the world, with big numbers from England and Germany. That trip helped what had been a dismal set of pictures previously, most of which you can see in my Oludeniz album here.