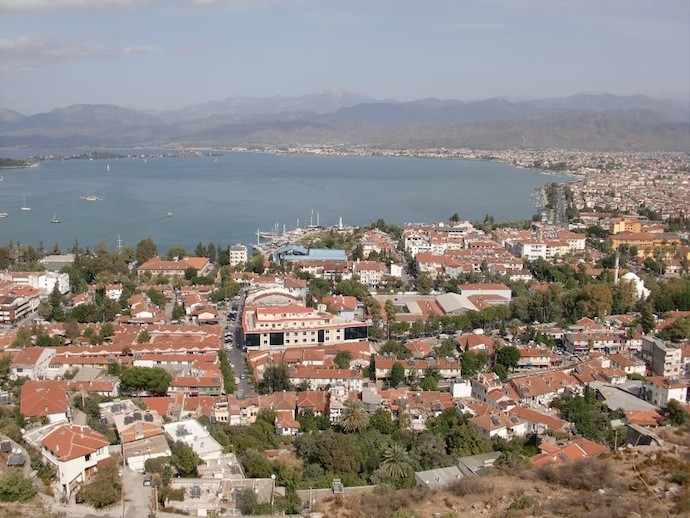 The place where the god Apollo supposedly fell from the sky, the start of the Lycian Way, and home to some of Turkey's most famous beaches, Fethiye isn't your typical resort town. You could treat it like that, using it as a brief stopping off point on a boat tour, then jetting off to the next Turkish Riviera stop.
Fethiye is different. I spent most of the past winter there, using Fethiye as a hopping off point to (relatively) nearby destinations like Oman and Bulgaria and came to greatly appreciate why it's not Bodrum or Antalya. And to be frank, why it's so much more interesting than either. Even if you took away Fethiye's famous beaches it would hold its own as a major tourist destination for a large range of travel styles. This city of 70,000 on the southwestern Mediterranean coast, much like a good tan, takes time to soak in properly.
Markets For Shopping, Fish, And Dinner
The neighborhoods around Fethiye have their fair share of markets but the two I frequented most are Fethiye's fish market in the center of town, and the Calis market nearby. Calis, a strip of beach about a 15 minute dolmus ride (at ~1.50 Turkish lira) away, has a large produce market set up every Sunday for shopping, strolling, and shooting photos.
The Fethiye fish market has an organized feel amplified by the brick and mortar restaurants surrounding the fresh seafood located in the small center square. Chances are if you're visiting Fethiye, you won't be lugging a sea bass ("levrek") back to your hotel room, but luckily for you the surrounding restaurants will cook it up for you. The basic procedure is sit down at one of the nearby restaurants, let them know it's seafood you want, then head over to the center square with fish laid out to pick exactly what you want to eat. Throw in a kilo of prawns and drink raki like a Turk so you're in for leisurely evening of food over conversation.
Visit The Ghost Town Kayakoy
Less than 10 kilometers from Fethiye is the abandoned (now museum) town Kayakoy. What was once a small Greek village of about 3,000 is now hills of empty dwellings deserted after a population exchange between Turkey and Greece around 1922. Wandering around parts of Kayakoy is free but the small fees to visit both the large Catholic church in excellent condition and library standing on top of one of the highest hill peaks are worth the views.
Finding Saklikent, The Hidden City Gorge
The second largest in Europe behind the Verdon Gorge in France, Saklikent runs about 20km long with a 4km hiking trail (excluding in winter). Its 300 meter deep canyon created by water erosion can also be viewed, dipped into, or ridden over via white-water raft. Getting to Saklikent from Fethiye is easiest done in my opinion by rental car as it gives you the opportunity to stop and take photos along the way as you enter the gorge area.
Though if your sense of direction is anywhere near as terrible as mine is you'll want to get good directions beforehand. The "I'll figure it out along the way" method failed for me several times before I switched to more reliable "do anything but listen to myself" navigation system.
How About That Ancient Theater Just Sitting There?
The number of large Lycian, Roman, and Greek ruins simply laying around Fethiye is a sadly hilarious sight. It's almost like they've got too many ruins to bother taking care of, the archeological equivalent of Kanye West losing a diamond earring or Silvio Berlusconi misplacing a mistress. In fact, most of the people in Fethiye hadn't realized that many of their homes were sitting right above one until an earthquake in 1959 and excavations in the early 1990s uncovered the Telmessos Theater.
If the Telmessos Theater were in many other countries it would have been restored and would most certainly have a fee to enter. Fortunately for your budget the Telmessos Theater is free, sitting just behind the Fethi Bey statue facing Fethiye's harbor.
12 Islands Or The Budget Boat Tour Taxi
Practically all of the boats lined up along Fethiye's harbor offer a 12 island tour hopping for the better part of an afternoon to the local lagoons and snorkeling sites. Typically lunch is included and the rates vary around 20-30 TL though it might take a bit of Ferengi bargaining to get there. The poor person's boat tour is the 5 TL water taxi between Fethiye and Calis beach. Sure you won't go to islands or get a meal but it's a relaxing 20 minute boat ride with scenery on your way to new sands.
Still Dead Seas, Lycian Ways, And More Fethiye Resources
One of the top walking trails in the world, the 509 km Lycian Way is an ancient travel route that follows Turkey's Teke peninsula along the Mediterranean Sea – a route that happens to cross near Oludeniz and its well-known Blue Lagoon. (But I won't hold it against you if you simply catch a mini-bus there.) You can still work your legs out by climbing the stairs of these Lycian Amyntas rock tombs then ascending further to catch the views from Fethiye Castle.
To get even more insight on what to see and do around Fethiye you can check out what I consider the best resource online for the area, Turkey's For Life. That travel blog, written by my friends Julia and Barry, is continually updated, detailed, and easily accessible via Facebook as well.
And there is a lot travel "stuff" to sort through in this little corner of Turkey's coast that's been growing in popularity with tourists over the past 20 years. Though cast your net a bit wider to Santa's house or Myra's theater and you'll see how any 8 days in Fethiye could turn into a trip much, much longer.