You've had a big hand in part of my October travels, yes you right there, as I spent last week in The Best City to Visit in 2012 voted by you. I was amazed by the many of you who live in Sarajevo that found ways to meet up with me all over the city. An incredibly warm welcome that still keeps me speechless as I search for the words to describe it.
I'll be sharing much more from Sarajevo in the coming months – my writing is often racing to keep up with my movement – and by then I should come up with an adjective or two.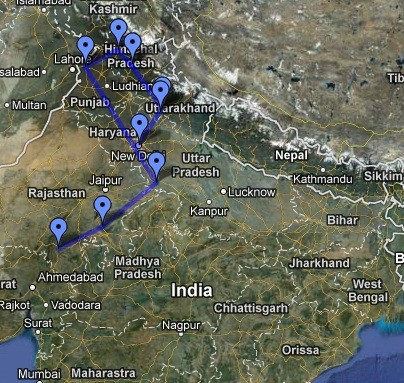 Welcome To India In November

On Monday I'll taking off to New Delhi, India from Istanbul, Turkey to meet up with Wandering Earl, who will be kicking off his inaugural 'Welcome To India 2012' tour. It will be my fourth time in the world's second most populous country and I'll be helping Earl conduct the tour, while sharing my experience from India with the 10 travelers joining us.
This tour will be a unique one, after Earl's distinct travel style I share much in common with, and know it will give the travelers with us a special India experience.
Earl also recently announced his next tour, across Mexico, from March 11-24th, and we'll be chatting about what to expect in my upcoming Live Chat (right here across the site!) this Monday, October 29th (11:30pm-1am US EST; Tuesday 9am-10:30am Delhi; 3:30am-5am GMT).
In The Meantime, Catching Up In Istanbul
This weekend I'll be sequestering myself in Istanbul, writing, going to the gym and running next to the views of Sütlüce Park. I cashed in some Hilton Honors points I earned through travel hacking earlier in the year to spend some of Bayram before my flight in 48 hours, which was kindly sponsored by CheapOair.
Wherever you may be, I hope that your life and travels are happy and carefree.
-Anil