There are a number of ways to book an airplane ticket, but almost all methods will lead you through a flight aggregating search engine, the kind that sifts through multiple airlines at once. Research from Temple University [PDF] suggests that 86% of Americans use at least one flight search engine, while 44% use 2 or 3 before booking a flight. Using more than one aggregator is a practice I highly recommend so you can learn the average fares you're looking at plus common flight routes (to potentially save on tickets using multi-city flights).
But searching for rates from engine to engine is time consuming, so if you're crunched for time or simply can't be bothered, these are the best aggregators to devote your time to, whether you decide to look further for lower rates or not.
1. Kayak
The search engine I begin my air travel plans with, Kayak's clean interface, quick results, and widespread search that includes other flight aggregators provides a solid airfare baseline nearly every time. Kayak is rarely the absolute cheapest option, though it's often close, the rates it shows tend to shift up after a few searches. (You can avoid paying more throughout the day by using two web browsers to search and book airfare.) One more thing worth mentioning to all of you spontaneous flyers is Kayak Explore: it lets you enter your city, when you want to travel, and shows you all of the possibilities and prices on a map. Pick a spot and go!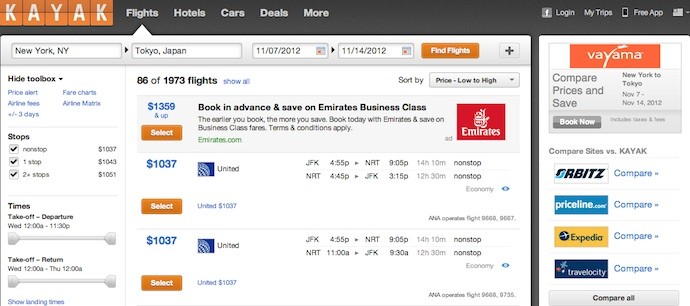 2. Hipmunk
The rates on Hipmunk tend to agree with Kayak, however if you're flexible on airports, it can usually give you options Kayak won't (since it tends to lock you into a single airport). One thing Hipmunk does better than any other flight search engine though, is provide an intuitive visual display of when you'll be wheels up and down, including any layovers in between. On flights with multiple timezones and connections, Hipmunk can help you avoid booking that accidental 15-hour layover (low airfare dude!) Though if that does happen to you, I've got your ultimate guide to sleeping in airports right here, dude.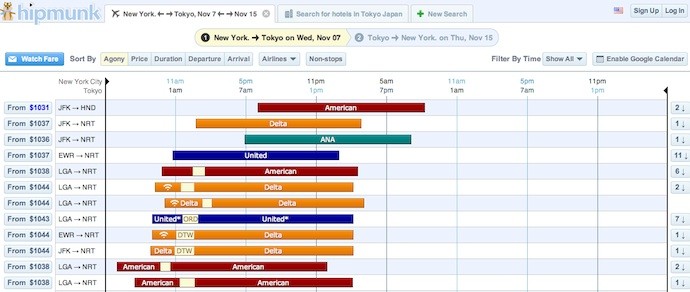 3. Orbitz
I know this isn't necessarily a popular choice among many travelers but I often find low rates on Orbitz, especially when booking last-minute. Nothing spectacularly cheap, but they seem to allocate more special rate tickets per flight, benefiting procrastinating bookers like myself. (Whereas prices sky rocket at the very last minute on most other aggregators.) There are a few other nice elements to the booking process on Orbitz, like a allowing you to specify a meal type (e.g. vegetarian) and entering your frequent flyer account. (Just be sure you're accumulating all of your points in one place.)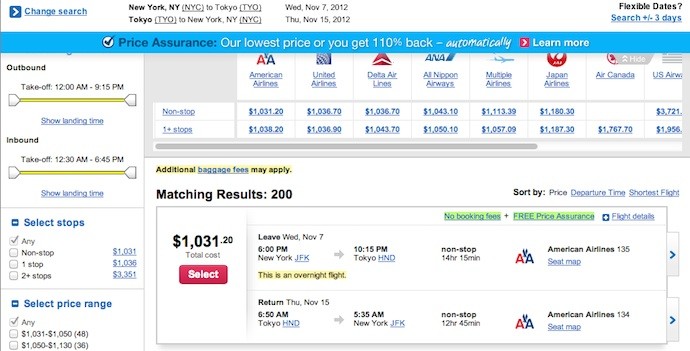 Still Feel Like Searching? Cast A Wider Net With These Aggregators
Generally speaking you're going to have a pretty good idea of what your airfare price range is after checking out the three flight search engines above. Sometimes though your budget can't doesn't agree with your schedule or wanderlust, putting you out on a quest to leave no digital stone unturned. I'm not saying you shouldn't believe in miracles but don't get your hopes up either.
Farecompare and Bing Travel – Though I dislike the multiple window pop-ups when performing a search, Farecompare acts like an automated airfare blitzkrieg, combing for cheap plane tickets across a number of other aggregators you specify. Farecompare can usually shave a few dollars off the rates you might find on Hipmunk or Kayak initially but it's best used in conjunction with another similar service. Bing Travel's Price Predictor, through the former Farecast service, can tell you whether the ticket you're about to book is likely to get more expensive (buy now) or drop in price soon (hold off).
Momondo – Hit or miss but when it's hit, you've usually found the lowest rate among the aggregators.
Fly Low Cost Airlines – Includes a number of budget airlines most of the other booking sites don't.
For The Ultimate Lowest Price Don't Stop At Aggregation
To come up with the lowest airfare on any given ticket quest however you can't stick to aggregators alone. They're one part of a frugal strategy and if you've got the time and will, be sure to utilize all of the best ways to look for cheap flights. Finally, don't take off without being a member of frequent flyer alliance – as accumulated miles can end up earning you a free flight from time to time. Here's how to get set up in 8 minutes and then 7 ways to bump up your earning immediately after.
What search engines and methods do you use to look for the cheapest airfare? Any of the ones I mentioned, any I missed? Share your search engine travel tactics in the comments below!