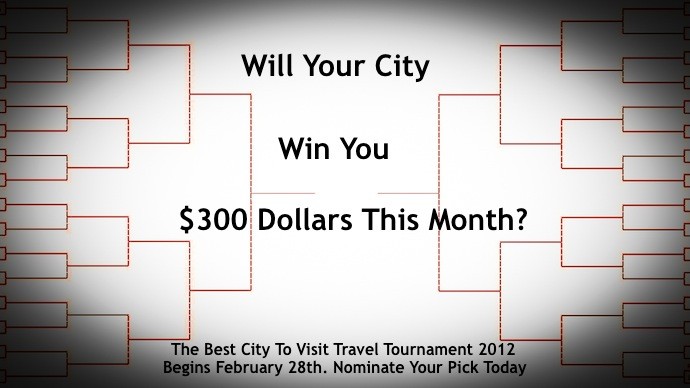 This is probably the easiest travel contest and $300 dollars you'll enter to win all year. The 4th year of The Best City To Visit Travel Tournament begins next week.

All you have to do to enter is name your favorite city in the comments of this post before next Monday, February 27th at 12:00pm US EST.
Cities Already Taken
Since my newsletter subscribers got word of the contest yesterday (they're always the first to find out but don't feel left out) these cities are already taken. Each person can choose one city except these and any others listed in the comments section already.
Vancouver, Canada – (Donald)
Singapore – (Dave)
Austin, United States – (Amy)
Vienna, Austria – (Laura)
Paris, France – (Bob)
Prague, Czech Republic – (Rod)
Hvar, Croatia – (Lisa)
Bergen, Norway – (Hetal)
Fethiye, Turkey – (Julia & Barry)
Padua, Italy – (Stephen)
Kota Kinabalu, Malaysia – (Juno)
Rome, Italy – (Connie)
Hong Kong – (Joy)
St. Petersburg, Russia – (Katie)
That's 16 spots taken and 112 remaining. Feel free to choose a second favorite if your city is already taken! Notice also that last year's champion Porto hasn't been selected so it's up for grabs to whomever nominates it first.
Dates, Deadlines, And How The Tournament Works
By next Monday, February 27th 12:00pm US EST we'll have 128 cities. The Best City To Visit Travel Tournament is a single-elimination tournament. Voting will begin Next Tuesday, February 28th to seed the cities (determining match-ups) and that Friday readers will begin voting that 128 group down to 64. Each week, through voting, the cities will be halved until there is only 1 remaining.
The person who originally picked that winning city will receive $300 from yours truly. And, as I did last year, I'll visit the winning city before 2013 rolls around.
Voting will happen on these dates, so get your mouses ready!
Round of 128: Friday, March 2nd; Round of 64: Tuesday Mar. 6th; Round of 32: Friday, Mar. 9th
Sweet 16: Tuesday, March 13th
Elite 8: Friday, March 16th
Final Four: Tuesday, March 20th
Championship: Tuesday, March 27th
The winner will be announced on Tuesday, April 2nd and prize money sent out before the beginning of May.
Winners Come In All Sizes
In 2009 it was Sydney, Australia, in 2010 Zermatt, Switzerland, and last year Portugal's Porto took the top prize. Those are cities with an average population of 1.9 million and none are in the top 15 of most visited cities in the world. That doesn't mean that you all didn't vote them the best and that your favorite doesn't have a chance, no matter how big or small.
Remember, click here to the comments to nominate your favorite city before next Monday, February 27th at 12:00pm US EST. Good luck to you all!
Bonus: Sign up now for my RSS feed or daily email updates during the entire tournament month of March and win, I'll add $50 to your prize.